The UKCA  logo comes into effect on 1 January 2021. However, in order to give businesses time to adapt to the new requirements, in most cases CE marking can be accepted concurrently until January 1, 2023. Recently, in order to reduce the burden on enterprises and ease the increase in demand for conformity assessment services by the UK Conformity Assessment Body (CAB) at the end of the year, the British government announced the following new regulations for the UKCA logo:
1. Enterprises are allowed to choose to mark the UKCA logo on the nameplate of the product itself or on the documents accompanying the product until December 31, 2025. From January 1, 2026, it must be marked on the nameplate of the product itself. (Original regulation: After January 1, 2023, the UKCA logo must be permanently affixed to the product body.)
2. Products in stock that are already sold in the UK market, that is, products that have been manufactured before January 1, 2023 and have entered the UK market with the CE mark, do not need to re-test and re-apply for the UKCA mark.
3. Spare parts used for repair, refurbishment or replacement are not considered "new products" and may use the same conformity assessment requirements as when their original products or systems were placed on the market. Therefore re-authentication and re-marking are not required.
4. To allow manufacturers to apply for the UKCA mark without the involvement of any UK accredited Conformity Assessment Body (CAB).
(1) Allowing non-UK CABs to complete a conformity assessment process in accordance with EU requirements to obtain CE marking by 1 January 2023, which can be used by manufacturers to declare that existing product types are UKCA compliant. However, the product must still carry the UKCA mark and be subject to conformity assessment by a UK accreditation body at the expiry of the certificate or 5 years later (31 December 2027), whichever expires earlier. (Original regulation: CE and UKCA two sets of conformity assessment technical documents and declaration of conformity (Doc) need to be prepared separately.)
(2) If a product has not obtained a CE certificate before January 1, 2023, it is considered a "new" product and needs to comply with GB regulatory requirements.
5. For goods imported from the European Economic Area (and in some cases Switzerland) before December 31, 2025, the importer's information is available on the sticky label or in the accompanying documents. From January 1, 2026, relevant information must be affixed to the product or, where permitted by law, to the packaging or accompanying documents.
Related link:https://www.gov.uk/guidance/using-the-ukca-marking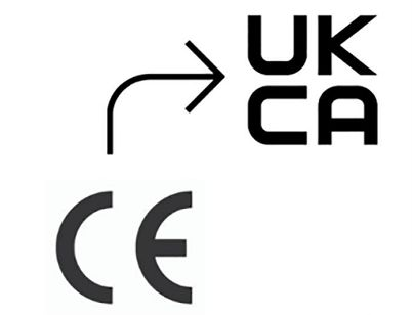 ---
Post time: Jul-01-2022